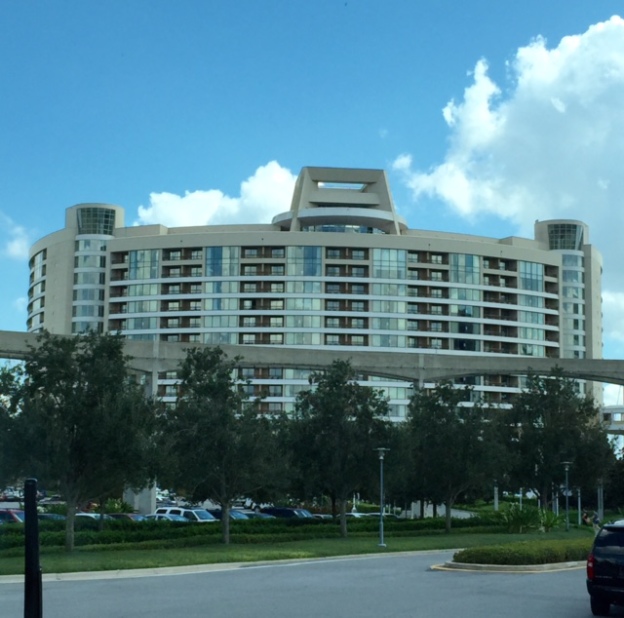 We have always loved Disney's Contemporary Resort.
More than the design and theme, which we like well enough (especially the Mary Blair mural in the Grand Canyon Concourse). We are crazy in love with the location – to us, the ability to walk to the Magic Kingdom just can't be beat. And the restaurants – we love those too. And the monorail whooshing right on into the building. Well, you get the idea. We always knew if a DVC resort became available by the Contemporary, we'd be all in. That's why Bay Lake Tower is our home away from home.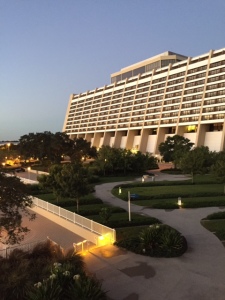 One of the most important aspects of the Disney Vacation Club
for our family, is the ability to use your points how, when and where you like (based on availability). When we needed a place to sleep six, Bay Lake Tower's two bedroom lock-off option was perfect for us – master bedroom (king bed) and bath, full kitchen with living room (pull-out queen sofa and chair-and-a-half) and a connecting studio (two double beds). When Raymond and I travel alone, we just need a studio. Able to book at our home resort 11 months in advance, we were, for our most recent visit, able to book a lake view studio (339 square feet) which was perfect in every way!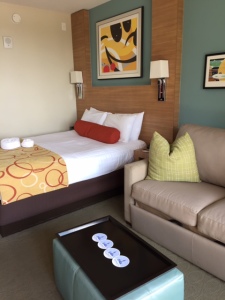 Arriving from the airport via Disney's Magical Express,
check-in is in the Contemporary lobby (we opted not to check-in online to see how the in-person version works). Greeted immediately upon stepping down from the bus by a very friendly and efficient Cast Member, we were promptly escorted into the lobby and handed off to the helpful young man at the check-in counter. The process was quick and easy and we were told our room was ready. We got our room number and informational materials and headed off for the short walk to Bay Lake Tower. There is now a new check-in counter in the Bay Lake Tower lobby, but it is not for guests arriving via Magical Express.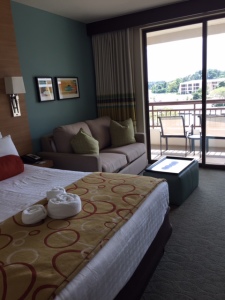 We were a tiny bit disappointed to find out our room was on the 3rd floor.
The 5th floor is super convenient to the walkway between Bay Lake Tower and the Contemporary. The higher floors seem to have the best views. We were surprisingly happy exactly where we were! Our balcony overlooked Bay Lake and the grounds of the Contemporary and – as a bonus – was a perfect viewing area for the Electrical Walter Pageant on the evenings we found ourselves back in our room in time to enjoy it.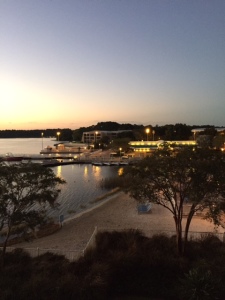 Our room had a queen bed, sofa, table and chairs, television, dresser, kitchenette, and bathroom.
The tiny kitchenette makes amazing use of a small space! In the far left corner of the kitchen area is a little extra vanity with shelves, mirror and outlets.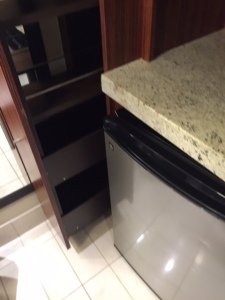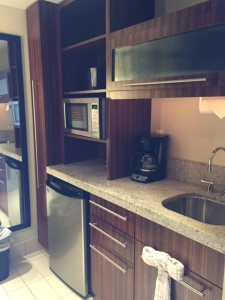 I was able to shower first then move into the kitchenette to apply makeup, style my hair, etc. The kitchen also boasts an incredible amount of storage – including a very cool pull-out shelving unit. We utilized the coffee maker for brewing the delicious Joffrey's Coffee we picked up in the Animal Kingdom Lodge gift shop on our first day of vacation.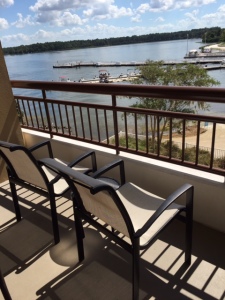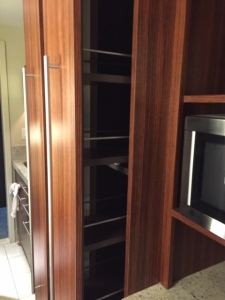 Location, view, comfort, amenities – our Bay Lake Tower studio did not disappoint.
Are you a DVC member?
What's your home resort and what do you love most about it? If you have questions about our experiences with the Disney Vacation Club, ask away!