One of my favorite resorts (okay, most of them are great) is the Animal Kingdom Lodge. In this post, Lisa takes us out for the evening at this wonderfully themed resort.-Nick
By: Lisa Green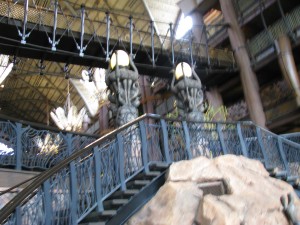 When we're at Walt Disney World, there's one resort we love to visit, even if we're not staying there – the Animal Kingdom Lodge.
Beautiful and unique, completely different from any other Walt Disney World property, the Animal Kingdom Lodge offers visitors wonderful dining options along with the chance to step out the massive and gorgeous lobby's back door and experience something amazing – over 30 species of African wildlife roaming around the savannah.
We may have stayed at the Animal Kingdom Lodge only once, but we make sure we spend an evening there on every Walt Disney World vacation.
We make our visit to this spectacular resort fit into our plans in one of two ways: If we're dining at Boma, we head straight there from the Animal Kingdom Park (a relatively short bus ride) at the end of the day. Boma's casual and relaxed atmosphere makes it fine for us to eat there in our park-touring attire. If we're eating at Jiko, we like to dress a little nicer, so we'll make time to go back to our resort and clean up before striking out for the Animal Kingdom Lodge – which may take an hour (or more) to reach by Disney transportation – sounds like a time drain, but believe me, it's worth it!
We try to arrive at least 60-90 minutes before our dining reservation.
This gives us plenty of time to stroll through the lobby, go out onto the savannah overlook, take in the views from every angle, talk to an African Cast Member about their home country, and see how many different types of animals we can spot. There are chairs available for relaxing while checking out the animals. If you're traveling with children and looking for educational opportunities, the savannah overlook is an excellent one.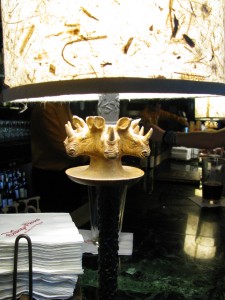 Before dinner, we like to stop for a beverage
at either the Cape Town Lounge and Wine Bar (near Jiko) or the Victoria Falls Lounge (overlooking Boma). Both of these watering holes offer wonderful selections of African wines and beers (and non-alcoholic options). Not sure what to order? The bartenders are knowledgeable and friendly – they'll be happy to help you with your drink selection. It's the perfect way to relax, unwind, and soak up the atmosphere so special to Animal Kingdom Lodge.
Our entire family loves the food at Animal Kingdom Lodge!
Boma – Flavors of Africa
: This buffet is unlike anyplace else at Walt Disney World! There is absolutely something for everyone. Picky eaters in your group? They'll find plenty of choices. Adventurous appetites? Yes, indeed – this is the place! I love trying new foods and my biggest problem at Boma is making sure to save room for dessert. I love the soups and salads (especially the watermelon rind salad – it's delish!), then I love the amazing variety of African-inspired dishes from which to choose. Finally, the dessert selection, which includes the much-loved Zebra Domes, offers a wide variety of different confections – sure to please anyone with a sweet tooth.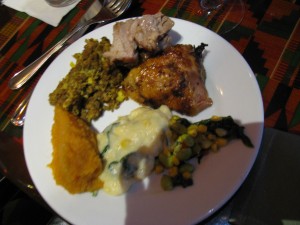 Jiko – The Cooking Place
: A bit fancier than Boma, I'd put Jiko on par with the likes of the California Grill (at Disney's Contemporary Resort) or the Flying Fish Café (at The Boardwalk). While there is an extensive kids' menu, this is my recommendation for families with older children or couples out for a romantic evening. The service is excellent and the meal is paced for enjoying more slowly. If you're like us and enjoy wine with dinner, select a bottle with your server's assistance, or have a pairing with every course to sample a few different types of African wines. The artisanal cheese platter is our favorite appetizer here and no entrée has ever disappointed. Even our picky eater (Joseph) loves eating at Jiko. (This is a signature dining experience and does have a dress code – read more
here
.)
Sanaa
– Designed to recreate the feeling of a spice market, Sanaa (located in the resort's Kidani Village area) offers a variety of dishes from chicken, beef, and lamb to fish and vegetarian selections. Raymond and I will be experiencing our first dinner at Sanaa in October and cannot wait to try the highly praised Indian-Style Bread Service appetizer.
If you want an evening away from the parks
to relax and enjoy some excellent food and amazing sights, a visit to the Animal Kingdom Lodge is an excellent option! It's also a great way to check out the resort for a potential place to stay on a future visit to Walt Disney World.
Have you visited Disney's Animal Kingdom Lodge? What are your favorite things to do there?