If you listen to The Disney Exchange Podcast which is hosted by Lisa Green, David Hodges and myself, then you have perhaps heard that our unofficial mascot is the Komodo Dragon at Disney's Animal Kingdom. Lisa takes a look at this fella(?) as well as other reptiles on this edition of Saturday's with Lisa. - Nick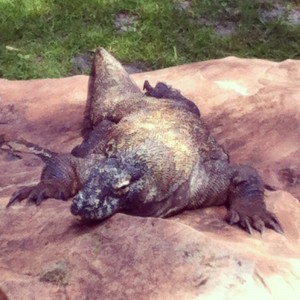 We all know that Walt Disney World is overrun with famous princesses.
There are also a good many ducks! Did you know that Walt Disney World also boasts an incredible number of reptiles? Why, I'd be willing to bet that there are more reptiles at Disney World than all the princesses and ducks combined! Let's talk about lizards, snakes, alligators, crocodiles and more!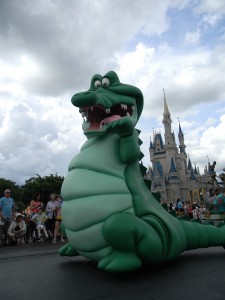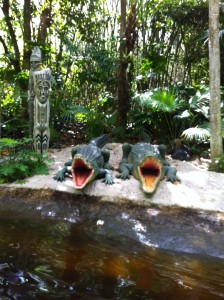 You can find reptiles in lots of places in Magic Kingdom.
The famous crocodile from Peter Pan is in Peter Pan's Flight and he also makes an appearance in the Festival of Fantasy Parade. How about the snakes and crocs found on the Jungle Cruise?
"….keep your hands in the boat because Ginger snaps!"
If you look carefully, you can find the tiny anole lizards native to Florida sunning themselves all over the place – We can usually spot at least one among the headstones in the pet cemetery next to the Haunted Mansion.
In Animal Kingdom – there are lots of reptiles, as you would expect!
The Komodo Dragon along the Maharajah Jungle Trek is amazing! There are crocodiles on Kilimanjaro Safari and, in the exhibits along the Pangani Forest Exploration Trail, you can view a Kenyan Sand Boa. Over in Dinoland – there are bunches of reptiles (of the extinct variety).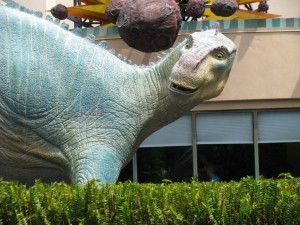 The make-believe dragon in Epcot's Journey into Imagination with Figment
could arguably be considered a reptile of sorts. Our own brush with an actual reptile in Epcot happened in the China Pavilion several years ago when Joseph pulled a live snake out of the shrubbery. Luckily, I was able to convince him to put the snake back by reassuring him that he didn't need to rescue the poor thing – that it was clearly thriving and happy living among the landscaping and carefully cultivated topiaries. Florida boasts more than 50 native snake species – fortunately, 44 of those are non-venomous. If you find a snake at Walt Disney World, I do not recommend catching it!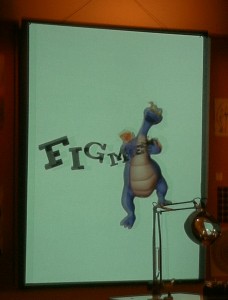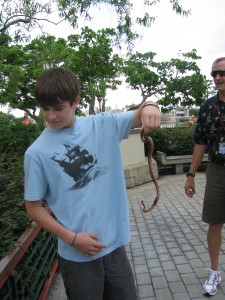 Reptiles can be found all over Walt Disney World-
all you have to do is watch for them! While I've never seen one myself, I've heard plenty of stories of American Alligators being spotted in many different Walt Disney World bodies of water. I'm guessing it's like here where we live in Louisiana, gators that get large enough to potentially become a nuisance are captured and relocated by alligator "specialists".
Tell your story – what's been your favorite Walt Disney World reptile encounter?
This article was originally posted on Lisa's Living a Disney Life Blog.
She can also be found on Facebook at https://www.facebook.com/LivingaDisLife
and on
Twitter at @life_of_green