Once again, in the interest of full disclosure
– I'm not a picky eater. This is, you know, my blog and thus, my opinion. I get asked a lot about the Disney Dining Plan in general and table service restaurants in particular. Disney Dining Plans can be a great value (even if you pay for them and don't get the free dining promotion), but to maximize your investment, you kind of need to choose wisely (if you care about such things). There are some terrific web sites and blog posts that work out the details on where you can actually get the best value (Here's a highly detailed
great article
from 2014) . I'm not really into that per se. I'm more about the overall dining experience versus straight up where-is-the-most-expensive-place-I-can-eat-for-one-table-service-credit.
Bearing in mind that these choices are based on my own family's experiences
– unless otherwise noted, we've actually eaten in every restaurant listed. To make the list, we had to like the food, the selection, the service, and the ambiance as a whole. Oh, and we'd have to want to eat there again. So, if we're all on the same page (HA!) here we go!
Disney World Dining – Best 1-Credit Table Service Restaurants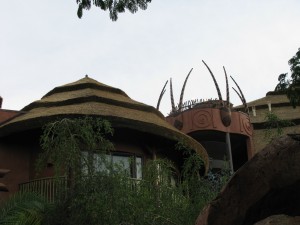 Boma Dinner Buffet
(Animal Kingdom Lodge) – Boma's also available for breakfast, but we haven't tried anything but dinner. We've eaten here several times because the variety of foods on this amazing buffet is simply unbeatable. Soups, salads, breads, meats, stews, casseroles, kid-friendly fare, unique desserts – it's all available at Boma. As an added bonus, arrive early or stay late and enjoy the Animal Kingdom Lodge's gorgeous lobby and savannah overlook for animal-spotting, entertainment, and educational opportunities. (More about Animal Kingdom Lodge for an evening out
here
.)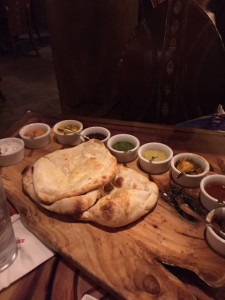 Sanaa Dinner
(Animal Kingdom Lodge, Kidani Village Section) – We recently ate at Sanaa for the first time and thought the atmosphere, service, and food were all excellent. A bit more adult-oriented than Boma (our opinion), we adored the bread service starter and felt perfectly comfortable lingering over a leisurely dinner. Romantic? Yes!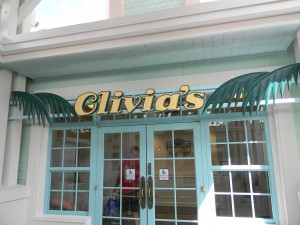 Olivia's Café
(Old Key West Resort) – We discovered this unique restaurant mostly by accident. We were staying at Old Key West, but honestly had no intention of eating there! At the very end of our vacation, we found ourselves starving at supper-time with no ADR (Advance Dining Reservation) booked. Olivia's welcomed us with open arms. Great service, broad selection (for all tastes and appetites), and cozy, welcoming atmosphere – Olivia's won us over! (Full review
here.)
'Ohana Dinner
(Polynesian Village Resort) – This place has wide appeal for the entire family. All you care to eat, great setting, tasty Brazilian-barbeque-style dinner, decent service – you won't leave hungry! If you're tempted to give this place a try, you must book your ADR 180 days out. You snooze, you lose…if you want to eat at this uber-popular restaurant.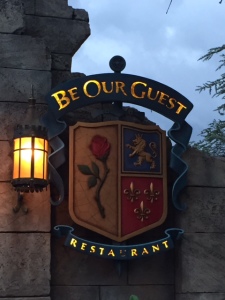 Be Our Guest Dinner
(Magic Kingdom) – Out of pocket, I thought this was an expensive dinner (review here), but for one table-service credit? Absolutely I'd book an ADR at Be Our Guest. It's gorgeous, the service is great, and the food is fine. Best, most gorgeous dining room(s) in Magic Kingdom. Let's put it like this – if you must book a table service restaurant in Magic Kingdom, make it Be Our Guest where, no matter your opinion on the food or atmosphere, you can at least enjoy an adult beverage with your meal if you like. (Full review
here
.)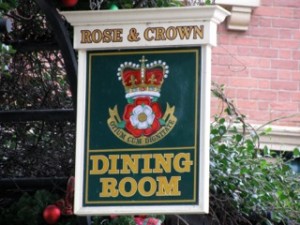 Rose & Crown Restaurant
(UK Pavilion, Epcot) – We loved this place. When we ate there (once so far), we were outside on a lovely evening with a great water view. The service and food were both great. We love the UK pavilion – enjoying dinner there is just one more great way to immerse ourselves in its awesomeness.
50's Prime Time Café
(Disney's Hollywood Studios) – This place is so cool! The "props", the atmosphere, the humorous servers, the comfort-food-based menu – it all adds up to a fun place for the whole family. A good experience and value for one table-service credit. I'm a notorious anti-fan of the Studio's restaurants in general, but this place is a winner in my book.
Character Dining: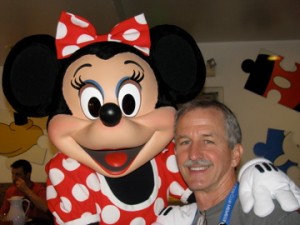 Chef Mickey's
(Breakfast or Dinner Buffet / Contemporary Resort) – For years (and years!) we ate at Chef Mickey's on every single Disney World visit. First for dinner, then when the kids were older, for breakfast. We'd eat there again – and probably will next time we're all together on vacation. The Fab Five and a decent buffet – especially during the summer, this combination at an indoor venue, for a meal, just a monorail stop from Magic Kingdom is a pretty good deal! (Review
here.)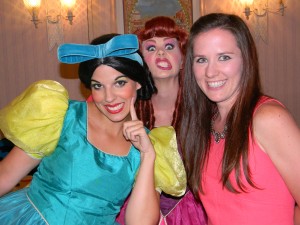 1900 Park Fare Dinner
(Buffet / Grand Floridian Resort and Spa) – We loved meeting Cinderella and her Prince, but Lady Tremaine and the Step Sisters steal the show. What this restaurant lacks in atmosphere, it makes up for in character-meeting experiences and a good variety of tasty food. We saw families of all ages there and our family of four adults had a great time! (Check out all the details
here
.)
Honorable Mentions:
Places we haven't tried, but are on our to-try list because we've heard great things:
Kona Café (Polynesian Village Resort)
Whispering Canyon Café (Wilderness Lodge)
Cape May Café Dinner (Buffet)
Tusker House Dinner (Buffet)
Your turn!
Which table service restaurants would you recommend?
This article was originally posted on Lisa's Living a Disney Life Blog.