By Lisa Green
Walt Disney World's Park Hopper – Five reasons to say YES!
1. You want to start early and stay late!
Yeah! You're speaking my language. Here's what we do: Rope-drop (arrive before the park opens) for EMH (Extra Magic Hour), if possible. Hit the headliners early then slow it down, wander around taking in the sights, sounds, and smells. Eat a leisurely lunch and the HOP to the park where we've booked FastPasses for the afternoon and evening. The post lunch hop means you can catch a cat nap on the bus or monorail during the hop – seriously, this is a solid plan!
2. You want to book ADRs
(Advance Dining Reservations) 180 days in advance and not have those choices dictate the park you'll visit on any given day. I may want to eat in Epcot's Le Cellier and I'm okay with scheduling that meal 6 months before I'm going to eat it, but I do NOT want said dinner to completely control my activities for that particular day. I should be able to spend my time anywhere I want to and then HOP to Epcot for my steak supper!
3. You want choices!
Not an obsessive planner? Free-styling more your idea of fun? Book those FastPasses first thing in the morning and then boom, baby! The rest of the day is your oyster. Start one day at Animal Kingdom to ride Kilimanjaro Safari early while it's still relatively cool. Then check out the Pangani Forest Exploration Trail and Maharajah Jungle Trek before hitting Expedition Everest and Dinosaur. Now you're free to leave and visit a different park. You can hop BACK to Animal Kingdom on the afternoon of a different day to see shows like Flights of Wonder, Festival of the Lion King, Finding Nemo-The Musical, and It's Tough to be a Bug (3D Movie). Animal Kingdom is absolutely a full-day park, but you can split it into two half-days easily with the park-hopper option.
4. You don't want to spend all your time in the parks
, but when you're there you want what you want. Ah, the luxury of time and the ability to enjoy Walt Disney World at your leisure. If you have a week or longer or are (or planning to be) a frequent visitor, you don't necessarily have to feel rushed, pressured, and meticulously planned. You can start the day in Disney's Hollywood Studios. Eat lunch in Epcot's World Showcase. Spend the afternoon napping or swimming at your resort pool. Grab a bite to eat in the Magic Kingdom and enjoy Wishes before calling it a day.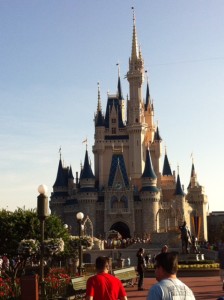 5. You love a challenge!
Four parks in one day? We've done it and with a park-hopper ticket, you can too! We decided on our last day of vacation a few years back that we would each pick an attraction we HAD to visit one last time before we went home. To do that, we had to visit each park – it was challenging, super fun, and created some really great memories of our last vacation day. We were too busy to be sad.
Are you pro-park-hopping?
What's your favorite reason for adding this option?