This post by Lisa is from back in January of 2015, and since this article was posted, she has taken a Disney Cruise to Norway, so I'm sure this would be a different list today, but I felt a cruise article was appropriate for this Saturday with Lisa, since the newest episode of The Disney Exchange Podcast, which Lisa co-hosts with me and Dave Hodges, is about Disney Cruises, so please stop back tomorrow to check out that episode! - Nick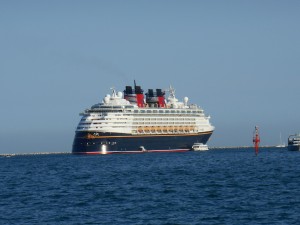 I talk about Walt Disney World a lot.
We love it there. I can honestly say, for our family, no other type of vacation compares with the incredible fun, thrills, food, and entertainment we can experience at Disney World. Except for one – a Disney Cruise.
Think about the ship as being your resort
– all the amenities you love about Walt Disney World are there. Plus, your favorite Disney characters are all aboard and you get to experience some absolutely top notch shows. Today I started thinking about the cruise we'll be taking this summer aboard the Disney Magic to see the fjords of Norway and that got me thinking about the incredibly fun cruises we've already taken over the past nine years. While there's really no way I could name the TOP ten things I've seen along the way, I did come up with…
Disney Cruise Line – 10 Amazing Things I've Seen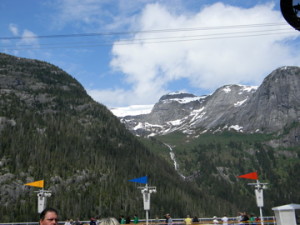 1. Seals, icebergs, mountains, waterfalls, Goofy, and a glacier!
No, that doesn't count as six things (I know what you're thinking) when you see them all at the same time. On our Alaskan Disney cruise (2011), we were fortunate enough to experience the incredible beauty of Tracy Arm Fjord on a gorgeous sunny day. We sailed slowly through the fjord, making our way to Sawyer Glacier with an Irish Coffee in one hand and a camera in the other. At lunch, the on-deck barbeque meant we could eat while not missing a single second of the action! We looked down and watched seals floating by on little icebergs. We looked up and saw beautiful waterfalls rushing down the sides of the snow-covered peaks on either side of the ship. Goofy came by for a visit while we were enjoying the view. Finally, we felt the air grow colder as the ship approached Sawyer Glacier. Oh, and maybe we saw some nesting bald eagles in the middle of all that other stuff. It was good. Really, really good.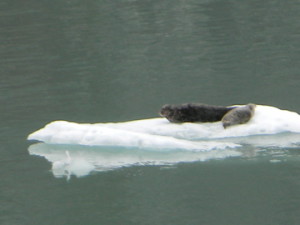 2. Pompeii
. When we sailed on the Magic in the Mediterranean, we felt like it gave us the opportunity to see a little bit of a lot of places; like small tastes of what would have been delicious meals if we'd only had more time. This was never more true than at Pompeii.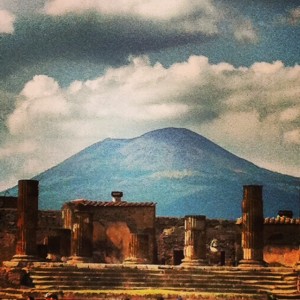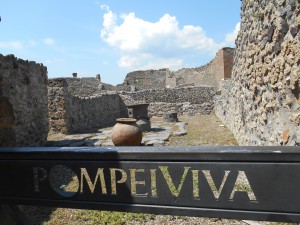 We had just a few hours of a single afternoon to explore these ruins and we barely saw a fraction of all there was to take in. Same thing with the Leaning Tower of Pisa! Beware taking a Mediterranean cruise – it leaves you wanting to see and do that much more. Going back to Spain, France, and Italy is high on our list of things to do in the future.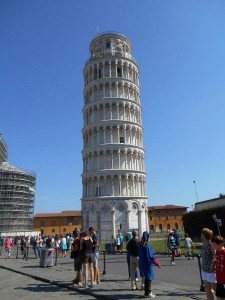 3. A ship wreck.
Luckily not our own…and it was really more of a boat wreck, technically. In Grand Cayman on Disney's Western Caribbean cruise, way back in 2008, we took an excursion that was as fun as could be. We boarded a couple of Zodiac boats and followed our leader through the docked cruise ships and off to explore a couple of different snorkeling sites. One of them included a sunken ship (okay,
boat
) on the ocean's floor we could see as we swam. It was a beautiful day, Grand Cayman is gorgeous, and we fondly remember our visit there as one of the best days we've ever had on a Disney Cruise.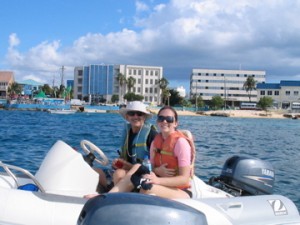 4. The southernmost point of the United States
(we could see Cuba!).
Key West is everything you've ever heard about it – the architecture, lush foliage, chickens running around, great shops and bars – it's all there! We were able to leave our ship and easily take in all the sights while making our way to the southernmost point of the U.S. and back. While more about the journey than the destination, all in all, it stands out in our memories as a perfect day!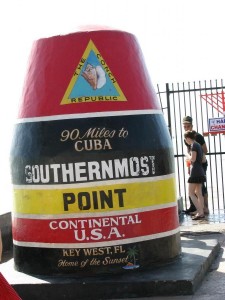 5. The Swiss Guard
– Ah, Italy – not one moment of time we spent there was less than amazing.
There was something about seeing the Vatican's Swiss Guard that gave our day in Rome a special something. The Colosseum, the Pantheon, the Trevi Fountain, the Spanish Steps, St. Peter's Basilica – all amazing in their own right. The Swiss Guard was just, I guess, the embodiment of all that we saw that day – exotic, colorful, traditional, and impressive.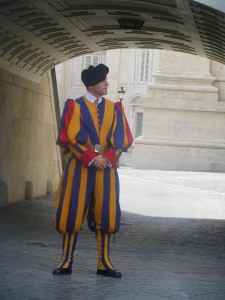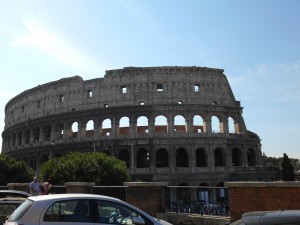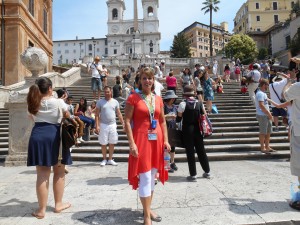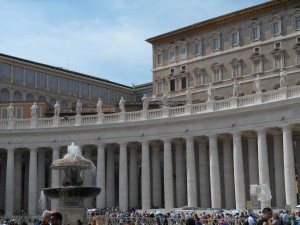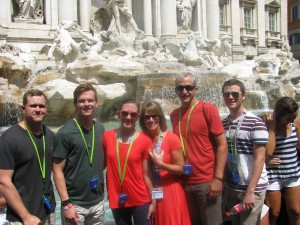 6. The Tongass National Forest.
In the Alaskan rainforest, the air is indescribably clean and fresh. The Tongass National Forest, the nation's largest national forest, surrounds Alaska's inside passage. We experienced the forest high above its rushing waterfalls and sphagnum moss-covered floor on a series of zip-lines and suspended bridges. Hands down, one of the most fun things we've ever done!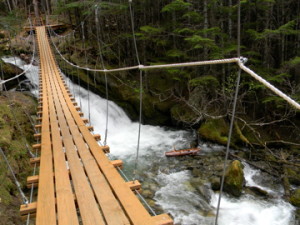 7. A medieval village high above the sea.
We had our doubts as we caught a bus in Villefranche on the coast of France and made our way straight up via a precarious series of switchbacks, but once we reached the top? Breathtaking! Eze is a wonderful place to shop, eat, and spend a leisurely half-day exploring a tiny little gem in the Maritime Alps.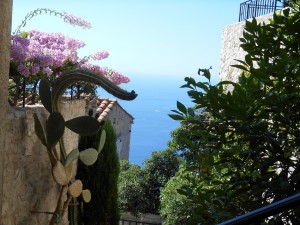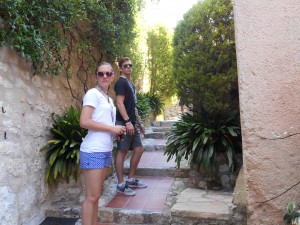 8. The Gothic Quarter of Barcelona.
We booked our own tour around Barcelona the day before our cruise departed. Our party of six all agree and will happily tell you that the only way to see Barcelona is on a Segway. Those alleyways in the Gothic Quarter (Barri Gotic) are incredibly narrow, but easy to navigate on a Segway. I wish I had taken more pictures!!!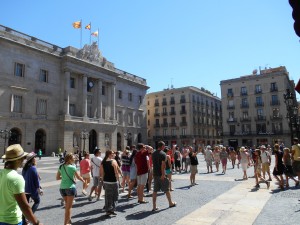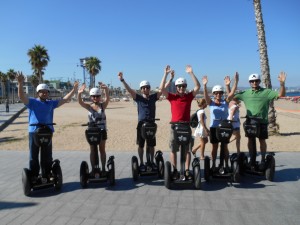 9. A sea turtle.
Sure, you can get a look at a sea turtle in lots of places, but glancing around while snorkeling in the clear waters of the Bahamas and realizing that a sea turtle is swimming next to you is so cool! Right off the shore of Disney's own private island, Castaway Cay, is an amazing array of aquatic plants and animals just waiting for Disney cruise guests to explore – so we did! You have to book an excursion to do this (almost nothing live is visible in the designated snorkeling lagoon), but it is worth the price!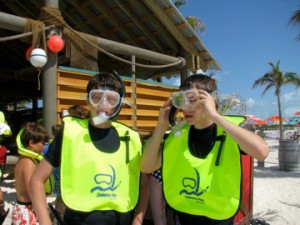 10. The view from Palo.
We were fortunate enough to score a brunch reservation at the adults-only Palo on our ship for Megan's birthday in August, 2013. We sat down to eat just as the Magic was passing between the islands of Corsica and Sardinia. Palo is located at the very top of the ship and the views are spectacular! Oh, and so is the food!!!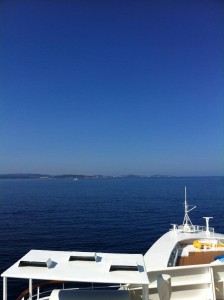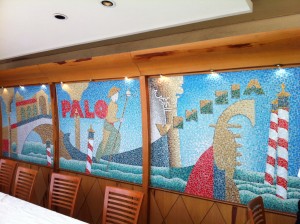 Have you taken a Disney cruise?
What are some of the most amazing things you've seen?